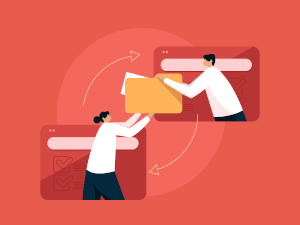 You've probably come across the phrase "Get with the program!" before. It's a common directive to get people to align with the right procedures and practices of their company, AKA "the way things are done around here".
The thing is, a lot of business owners don't have a clear program in place for their employees to follow, resulting in unpredictable and unsatisfactory outcomes. This lack of structure leads to lower levels of performance, output, and productivity from each person they hire. Everyone ends up frustrated - you, because your employees aren't doing what you need them to do, and them, because they weren't given clear instructions and guidance on the work they're expected to do and the results they need to deliver.
In today's economic climate, where inflation is high, salaries are increasing, and the possibility of a harsh recession is looming, businesses simply can't afford to keep employees who aren't fully aligned with their goals and strategies. It's essential to have a cohesive team that understands the expectations and works towards achieving them in order to thrive and survive.
Lets be clear: We aren't referring to a dull and rigid instruction manual that outlines every tiny detail of your business operations (though that could be a requirement for certain roles). What we are proposing is a meticulously crafted and unambiguous set of OBJECTIVES and EXPECTATIONS for each individual on your team, enabling them to have a crystal-clear understanding of the outcomes they should be producing for you. It's what we refer to as a job scorecard.
For example, is the job of your receptionist just to answer the phone? Or is it much more important than that? They could be the "director of first impressions" for your business, making sure every person who walks into your office, calls or emails, feels welcomed and satisfied. They could also be responsible for connecting prospects with your sales team promptly, rather than leaving them lost in the phone tree or waiting for an unknown callback.
In many cases, business owners give their assistant the simple instruction of "Answer the phone." However, this can lead to lackluster results and negative customer experiences. Anyone can answer a phone, even if they are rude or unhelpful. To avoid this, it's important to clearly define the purpose and expectations of each role in your company. This will help ensure that every employee understands how to provide exceptional customer service and positive experiences for clients and prospects. After all, there's nothing more frustrating than calling "customer service" and ending up angrier than when you started.
So, step one is make sure every employee has a scorecard that clearly defines the following:
Mission of the Position: What's the purpose of that position? To increase sales? Delight customers? Prevent cancellations and churn? Develop clients and nurture repeat business? Start here when thinking of positions in your company.
Key Results: Once you know the mission of the position, the next section you need to articulate is what key results that person is supposed to achieve in a way that's measurable. For sales and marketing professionals, that's easy. Secure $100,000 in new sales every month. Generate 10 qualified appointments/leads a week. In customer service, that might be client "saves" or upgrades. On a service desk, like ours, it may be speed of tickets cleared and customer satisfaction ratings. For leaders, it may be hitting certain revenue and profitability targets. To the best of your ability, give everyone at least one, but no more than three, key results they need to achieve. This takes the drama out of performance, because if it's measured, it's not based on an opinion or anecdotal evidence.
Specific Responsibilities: Next, make sure every employee has a list of specific actions, tasks and responsibilities they must fulfill every day, week, month, quarter and year. That way you avoid dropped balls and overlooked tasks because "no one told me I was supposed to do that." Of course, if you're clear on the outcomes a person needs to accomplish, the tasks nearly write themselves – after all, if the goal is to lower churn or increase sales, and employees are compensated that way, it's infinitely easier to "motivate" them to do what's necessary.
So, now that you have defined each role and established a job scorecard, the next step is to ensure that everyone on the team is on the same page. You could share this information through a platform like Microsoft Teams, which provides a host of collaborative tools such as Wikis, To-Do lists, file sharing, checklists, and chat to help departments and employees work together on various projects. By doing this, you can make sure that everyone in the company understands the responsibilities and duties of each team member, which can ultimately lead to greater efficiency and productivity.
If you want help in exploring how to use any of these tools in your company, click here to schedule a quick discovery call to see what's possible.